m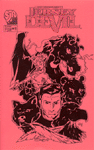 Who the Hell is Amazing Jerry?
Tony DiGerolamo's Jersey Devil #11
32 pages, b&w, $1.75 (digest sized)
Writer:
Tony DiGerolamo

Penciller:
Ken Haeser

Inker:
Peter A. DeLuca

Assistant Inker:
Bill Grover

Cover Enhancements:
Kevin Daily


---
m
m
Distribution: SJRP
First shipped: July 2000
First Appearances: Old Indian Narrator, The Spirits, Col. Pete, the Duchess Monahan, Weasel Com, Shelia Moyner, Harden, Delby, the Walum Olum, The Demon, Bill
Issue quirks: Due to a production error, contained a redundant ad for SJRP comics. Upgraded cover stock..
Issue Events: Second story appearances by 2 characters from the first story. Big revelations at the end.
Issue Synopsis: Narrated by an old Indian, the issues traces the history of the native Americans, an ancient book and an ancient evil, which is somehow tied into the origins of Peg Misery and Amazing Jerry. At the same time, J.D. has lost his way. He spends his time drinking with the homeless of Texas. Peg Misery is following him for some unknown reason.
At the same time, Judas is arrested as a suspect in a series of brutal murders. The homeless guys eventually convince J.D. to help break Judas free. Reluctanly, J.D. comes up with a plan that frees Judas, but gets most of his other friends arrested. The issue ends with a big revelation and a shocking surprise cliff hanger.

---
m