About the Author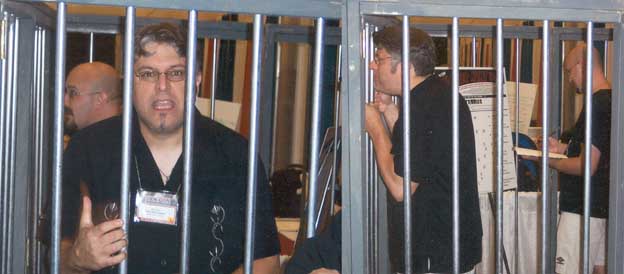 "I didn't do nuthin'! 'Cept play Complete Mafia for d20!"

(Mr. D, erroneously incarcerated in the Klingon jail at Gen Con 2004. Fortunately, the Living Room Games lawyers had him out in time for lunch.)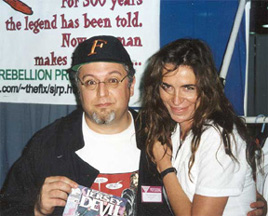 Tony with Claire Stansfield at the Pittsburgh Con! (She played the Jersey Devil on the X-Files!)
(Photo by Carl S. Dockum)

"You didn't see nuthin'!" (Tony with an unidentified member of the law enforcement community)


Tony DiGerolamo
Type: Human Male
Current Occupation: Writer, Creator, Publisher, Improv Performer
Former Occupations: Paperboy, Cashier, Fry Cook, Auditor, Teaching Assistant, Pizza Deliverer, Secretary, Substitute Teacher, Nectarine Inspector, Amusement Park Ride Operator, Warehouse Worker, Trivia Question Writer, Comedian, Producer, Actor, Video Editor, Cameraman, TV Host, Joke Writer, Clerk, Data Entry
Titles: Grand Poobah South Jersey Rebellion Productions, 2nd Assistant Pledgemaster Lambda Sigma Rho
Strength: Below Average
Endurance: Below Average
Intelligence: Below Average
Cunning: Below Average
Education: Below Average
Bravery: Below Average
Speed: Below Average
Charm: Below Average
Preferred Weapons: Rapier Wit, Paintball gun
Height: 6' 0"
Weight: a manly 230 lb.
Background: Tony graduated from Ithaca College, where he earned a degree in Scriptwriting and spending his parents' money. He wrote, acted and produced on the award-winning, The Nothing Special for four years. He also created and hosted a national TV show called The Comic Book Show. He has written jokes for Politically Incorrect with Bill Maher and has written 2 screenplays for Eagle Films called "The Father, The Son..." and "The Evil Within". Tony continues to write screenplays and comic books. He wrote The Travelers for SJRP, Kenzer and Company and Wingnut and Jersey Devil and The Fix for SJRP. He currently writes the Super Frat webcomic and the Complete Mafia game. He also directs the Philadelphia improv group, The Ninjas and works on an online zombie TV show called Zombie Country. He loves writing the Simpsons comic books for Bongo.
Career Highlights: Nearly beat Matt "Guitar" Murphy in Pac Man. Once wrote a feature screenplay in 2 weeks. Stole a cheese danish from a Rear Admiral. Put Abby Hoffman in a comedy sketch.
Career Mishaps: Broke beer bottles during one of his stand up acts. Fired from his own high school as a substitute teacher. Dropped his car keys down an elevator shaft. Dropped a $20,000 video camera on the sidewalk. Once pestered G. Gordon Liddy enough to have him threaten to break his legs.
Most redeeming quality: He always has change for a twenty.
Least redeeming quality: Lies on his resumes.
Awards: Honorable mention, Ithaca College writing contest (script category) 2 years running.


Bongo Comics stories
"A Chair of One's Own" (Bart Simpson #9)
"Homer vs. the Raccoon: Parts I & II" (The Simpsons #77)
"Bart Simpson Version 2.0" and "Maggie in Space" (Bart Simpson #15)
Bart Simpson #19
Bart Simpson #21
Bart Simpsons #22
The Simpsons #114
Bart Simpson #30
Bart Simpson #33
The Simpsons Books of Wisdom: Ralph Wiggum
Bart Simpson #35
The Simpsons Winter Winter Wing Ding #1
The Simspons Summer Shin Dig #1
The Simpsons Winter Wing Ding #2
Bart Simpson #40
Bart Simpson #41
Writer: Hacklopedia of Beasts Volumes I thru VIII
Co-writer: Knights of the Dinner Table: Illustrated vs. The Travelers Crossover Special
Writer: Slaughterhouse Indigo: A Hackmaster RPG adventure
Writer: Everknights -3
Series Writer: The Everknights


Other Gaming Credits
Lethal Legacies trap book from Goodman Games
17 Ranger Spells, 17 Paladin Spells, 17 Bard Spells and 17 Necromancer Spells for The Le Games

The second Fix novel is in the works. I also wrote "The Undercover Dragon" as part of Padwolf's young adult book series, the Wildsihde Chronicles.

Other Projects
Here's an article I wrote for Yankee Pot Roast

Here's one from Cracked.com

My currently gig on Comedy Central has me writing for the Indecision 08 blog like this.
Return to the Menu of Menace!

Page created by: thefix@ix.netcom.com